---
---
Klaas van Eijkeren, DIRECTOR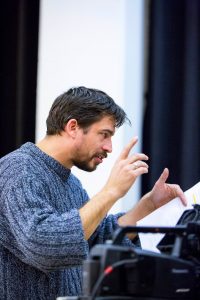 Owner at Expressie Produkties since 2012.
Studied multiple disciplines such as Humanistics, Social studies and English.
Produced five short films for festivals ( nominated for NOFF festival, Holland 2009), which
earned him a place on Dutch Prime Time TV-show 'De Wereld Draait Door'.
Taught film making at the Academy of Media, Arts & Performance in Den Bosch for four
years while producing first international feature Patria/ No Man's Land. Produced numerous
Corporate films, including Animations leading up to production of second international
feature film The Fox in 2017.
---
Alex ter Beek, PRODUCER
Founder of Pink Moon BV, a licensing and (co) production company for film content.
Exploitation took place through Living Colour Entertainment, the film distribution company
that Alex founded in 2006. Previously, Alex worked as General Manager of Total Film Home
Entertainment (A-Film) and as Sales Director at Play It Again Sam.
After Alex's departure at Living Colour Entertainment, late 2013, Pink Moon has fully taken
on the role of distributor. This in cooperation with several reputable partners. In addition to
distribution in the Benelux, international partnerships also provide an international approach.
The collaboration with Expressie Produkties led to the production of the Dutch true story
World War I drama Patria (2014), which is also released in several other countries under the
title No Man's Land.
---
Morgan C. Jones (Simon Fox)


Morgan C. Jones was born in Dublin, Ireland. He is an actor who has appeared in Game of
Thrones, Ripper Street, Vikings, Penny Dreadful and The Frankenstein Chronicles. He starred
as Sean Fitzpatrick, villain of the Irish banking collapse of 2007 in the acclaimed Irish feature
The Guarantee (dir. Ian Power). In 2017 we will see him return to the screen in Out Of
Innocence (dir. Danny Hiller) and stylish Irish horror film Without Name  (dir. Lorcan
Finnegan).
Morgan has also appeared on stage and TV in straight drama, musical theatre, comic improv
and as a stand-up comedian. Indeed he cut his teeth as a (very) young stand-up comedian and
writer on the groundbreaking 90s satirical TV show Nighthawks (RTE) – which not only
achieved a cult following but is the only satirical TV show in the world to have brought down
a ruling head of government (Charles J Haughey 1992).
Morgan is also an ambitious multi-instrumentalist. He can clear whole rooms with guitar,
piano, bass, ukulele, sitar or harmonica. He lives in Dublin with his wife and 3 youngest
children.
---
Maarten Dannenberg (Thijs van Houten)


Rising star Maarten has been working steadily between Spain and the UK. Fluent in five
languages, he has lived in France, Spain, the USA, Germany, the UK and the Netherlands. He
is often described as a chameleonic artist, with performances that are impossible to compare
amongst one another. His credits include the thriller Good People, the western Stop Over in
Hell and World War II drama The Chess Player, the latter two of which will also premiere in
2017. The Fox marks Maarten's first Dutch production.
---
Eric Corton (Jean D'Arnaud)


Eric Corton is a radio and television presenter and actor. Following his education at the
Maastricht Toneelschool, he immediately played countless roles. He also performed three
seasons with cabaret group Purper.
Eric has been presenting (music) programs for various Dutch broadcasters, both on radio and
on television, for fourteen years already. He also presents the live TV shows of Pinkpop and
Lowlands annually. In addition to a major role in the VPRO youth series Taart, he played for
three seasons the role of John, Carmen's friend, in the widely acclaimed crime series Penoza.
---
Joshua Rubin (Mark de Koster)


Born in Amsterdam, raised in Europe and a graduate of Rose Bruford College of Speech and
Drama in London, Josh continues to establish himself as an International screen and voice-
over Actor.
Josh's film credits include Thick as Thieves (playing opposite Morgan Freeman and Antonio
Banderas), Scorpion King 4 – Quest for Power (with Rutger Hauer), Deuce Bigalow European
Gigolo, The Prince and Me 2&3, Razortooth, Heksen Bestaan Niet (NL), De Boskampi's
(NL,) and most recently The Legend of Escape/Sobibor (RU), directed by Andrey Malyukov.
For television Josh has appeared in various BBC productions including CBBC's Scoop,
Chucklevision and Nuzzle & Scratch. Among his many Dutch television credits, Josh is
currently in production as a series regular for the 5 th season of the hit series Penoza.
His many voices can be heard in animations, video games, commercials  and narrations
worldwide.
---
Anita Donk (Mathilda Brandt)


Anita is an actress and casting director. She was born in Sydney, Australia, but enjoyed her
education in The Netherlands. Through the theater academy in Maastricht and three years of
theater studies at the UVA, she completed her studies at the Arnhem Theater School.
The first 8 years after her study, she worked as a permanent guest actress at the Maastricht
theater ensemble 'Het Vervolg' (now Toneelgroep Maastricht) and some other companies.
Until now, she has played regular and guest roles in various television series and movies, such
as Onderweg Naar Morgen, Het Glazen Huis, Kan Door Huid Heen, Ernstige Delicten en
Goede Tijden. Slechte Tijden.